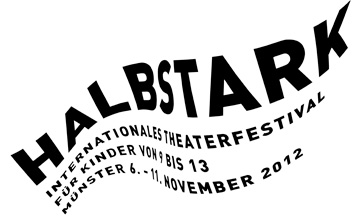 Professional Excursion
On Wednesday professionals and those with a general interest are invited to an excursion to the hellwach festival, which this year will be staged in parallel to the HALBSTARK festival. Both festivals aim to build bridges and use synergies in those areas in which they converge or complement one another.
As part of this, there will be an excursion on Wednesday to Hamm as part of the programme, including a professional discussion about object-based and material theatre for teenagers and a performance of Barbara Mélois' Spektakel Aluminiaturen (10+). On Friday the journey will be in the other direction: the hellwach festival begins with a special bus running to the HALBSTARK festival in Münster.

The hellwach biennale has been held since 2002 under the artistic direction of Barbara Kölling and Michael Lurse (HELIOS Theater) and is aimed at young audiences from the ages of 1 to 18. From 3 to 11 November the international festival will present innovative theatrical productions in both Hamm and in eight different venues in the surrounding region, covering genres ranging from object-based and material theatre, puppet and shadow theatre to dance. Alongside the main programme a comprehensive accompanying programme will create a lively dialogue between artists and audiences (www.helios-theater.de).


Date

Wednesday 7.11.2012
17.30: Bus departs from Münster to HELIOS Theater in Hamm
19.00: Barbara Mélios' Spektakel Aluminiaturen (10+)
20.30: Professional discussion: Object-based and material theatre for teenagers – A rarity? A new fashion? Chairperson: Barbara Kölling
Followed by a return journey to Münster
Register to take part in this free event via the HALBSTARK festival office by 2 November 2012. There is a limited number of places.
The following tags are attributed to this article: