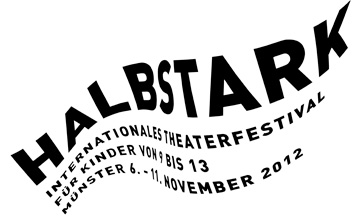 HALBSTARK
International Theatre Festival for 9 to 13 Year Olds
The 2010 premier of HALBSTARK was a great success. The Kulturamt der Stadt Münster and the Theater Münster, along with the NRW KULTURsekretariat (Wuppertal) and many other partners now present the second outing of this extraordinary festival, from 6 to 11 November 2012.

HALBSTARK is back with national and international plays, dance, musical and object-based theatre to entertain and challenge its audience.
The plays and performances will again focus attention on the lives of 9- to 13-year-olds and aim to inspire children, adults and professionals alike with a multifaceted festival week in which nothing can be missed.
Over six festival days, thirteen productions from Germany, the Netherlands, France, Belgium and Italy will be performed in the Theater Münster and the Theater in der Meerweise and in front of classroom audiences. They will examine what's beautiful and what's sad, what's funny and what's important, what's true and what's not true, what's crazy and what's serious and in doing so will connect with the issues and dreams of their audience.
Artists' talks, readings, workshops, festival parties, lectures and favourite pieces will complement the theatrical programme.
The theme of the second outing of HALBSTARK revolves around the choices made between childhood and adolescence and the forms this period takes.
In theatrical discussions theatre-makers, academics, artists and teachers will discuss getting older and not-yet-being-older. How do 9- to 13-year-olds orientate themselves in the world? How do they engage their courage, their creativity and their energy? How do they help form our society? And is art really in touch with the issues of this age group?
The children themselves will also reveal their view of the world. They are designing their own part of the festival programme, present their ideas and talents in small performances, become theatre critics and, as experts, join discussions with theatre-makers and politicians.
We are welcome anyone who wants to get involved, when children's theatre-makers entertain us with their plays about new and challenging experiences and discoveries and 9- to 13-year-olds give us an insight into their worlds.
The following tags are attributed to this article: